Here is an IMPORTANT FACT about rope tack....
Many people do not properly position halters or bridles on their horses.
Here is a sample of the same bridle on the same horse but one is tied too low and the other is tied just right.
This is an easy fix simply by lifting up on the halter and pulling the throat latch up a little higher and behind the jaw and lifting the noseband to the proper position just infront of the point of cheek.
This is a common mistake so don't worry, just keep practicing.
After tying your halter or bridle on just step back and take a look.... does it look right?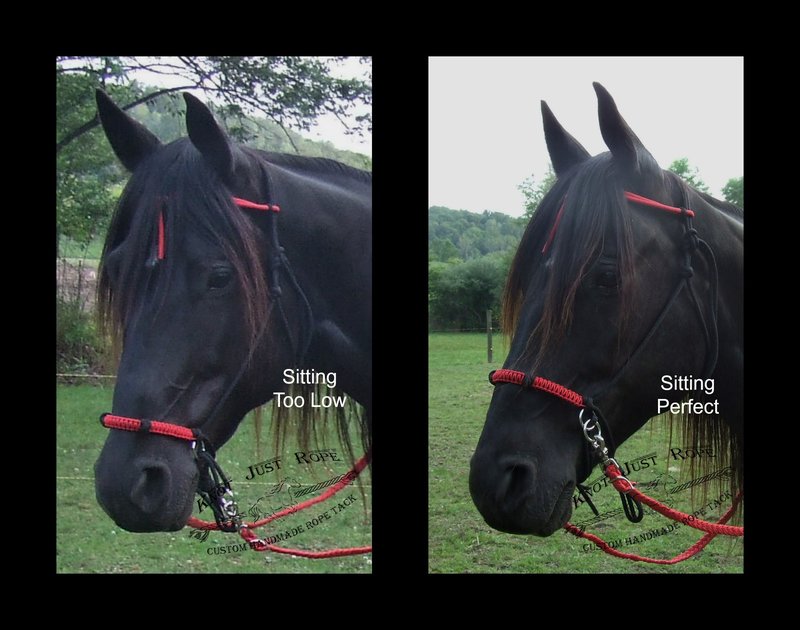 Another common issue with rope tack is that many do not know how to properly tie them. This happens to be one of the biggest frustrations for them. Here are two illustrations on the proper ways to tie your rope halter or bridle.....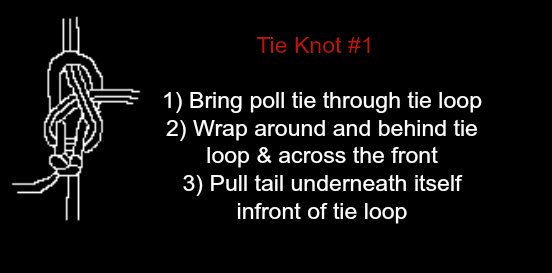 Reasons for my higher preference of tie knot #2 are pretty self explanatory. If you look at how it is tied, you will see that if your horse pulls while tied or while working then because the poll tie is wrapped "up" first, then the pull will not tighten your knot on itself therefor making it easier to untie.
*NOTE* two things to remember when tying...

1) Make sure your tie loop is pinched closed
2) Make sure your tail points towards the back end of your horse
Click HERE FOR VIDEO on how to do tie knot #2

Below you will find Knot Just Rope's measuring guide
for custom sizing or comparison to stock sizes.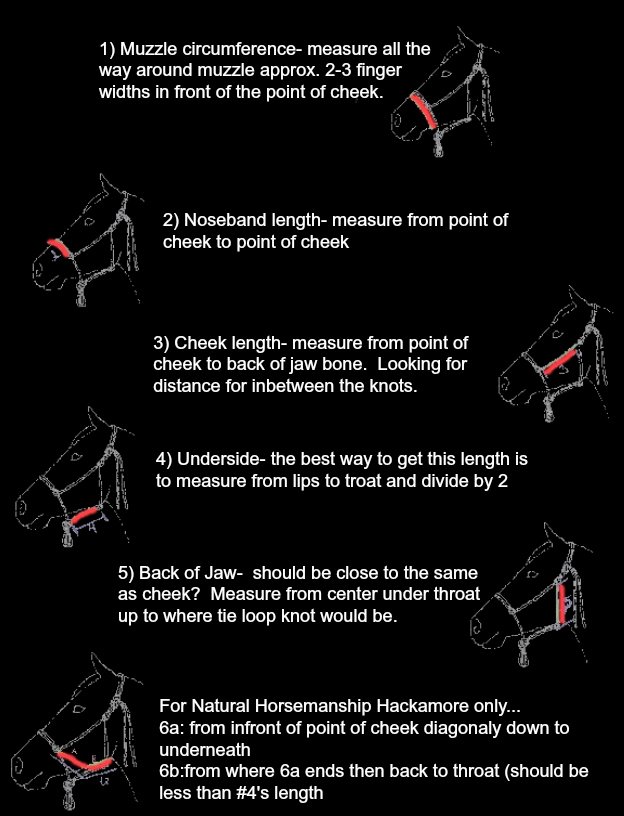 ROPE COLOR CHOICES...........
1/4" ROPE COLOR CHOICES FOR HALTERS & BRIDLES- click here for photos
Black, Brown, Brown Snake, Blue(royal), Blue(navy), Blue Snake (mix of blues and black maybe white), Fireball (mix of red,yellow,orange, & black or brown), Gold, Hunter Green, Lime Green, Olive Green w/black tracer, Orange w/ black tracer, Pink, Purple, Red, Red, White, & Blue "flag", Rust, Tan, Woodland (mix of greens, browns, black), White, Yellow w/red tracer,
1/16" ROPE COLOR CHOICES FOR TIGHTER COBRA WRAPPING, CHEEK ACCENTS, BATTAT/OUR GENERATION TOY TACK, HALTER KEYCHAINS-click here for photos
Autumn, black, black w/ yellow & lime, blue snake, brown, brown w/black tracer, brown w/gold tracer, brown w/olive tracer, dark tan, denim blue, emerald green, fireball, grey,hunter green, hunter green w/pink and lime, light tan, lime green, lime green snake, maroon, maroon & tan stripped, navy w/ white tracer, orange, orange w/ black tracer, pink, pink snake, purple, red, rose, royal blue, teal, turquoise (green OR blue shade), white, woodland, yellow, yellow w/ red tracer

550 PARACORD COLOR CHOICES FOR WIDER/SOFTER COBRA WRAPPING, CHEEK ACCENTS, REINS, BREAST COLLARS, DOG HEAD HALTERS, RIBBON KEYCHAINS-click here for photos
Black, Blue Snake, Blue Turquoise, Brown, Burgundy, Burnt Orange, Carolina Blue, Fireball, Green Turquoise, Grey, Hunter Green, Navy, Neon Green, Neon Orange, Olive Green, Pink, Pink Snake, Purple, Rainbow, Raspberry, Red, Royal Blue, Tan, Teal Green, White, Yellow(neon), Yellow(mustard)
NYLON TWINE COLOR CHOICES FOR TWISED NOSE WRAPPING, BREYER HALTER & LEAD SETS, HALTER KEYCHAIN NOSE WRAPPING-click here for photos
Aquamarine, Black, Bronze, Brown, Confetti Rainbow, Fiesta Rainbow, Gold, Golden Rod, Grey, Hot Pink, Hunter Green, Light Green, Lilac, Lime Green, Maroon, Orange, Periwinkle, Purple, Red, Red-orange, Royal Blue, Tan, Turquoise, White, Yellow