Braided 8 Strand Loop Reins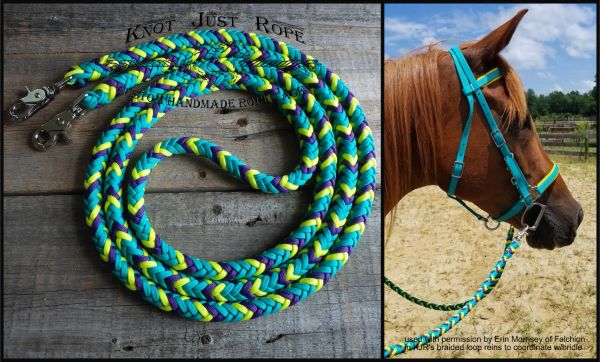 Braided 8 Strand Loop Reins
* Items are handmade to order so please keep that in mind when placing order*  

Rein length is determined from over all end of clip to end of clip.
PLEASE DOUBLE CHECK LENGTH REQUESTED BEFORE PROCEEDING TO CHECKING OUT

These 8 strand braided reins can be hard attached to clips as in first photo, slightly adjustable in length with flat section and conway buckle by clip ends shown in second photo, or you may choose to have the clips attached with leather water straps in last photo.

LOOKING FOR MORE 'FEEL' and 'WEIGHT'?  Then you will want to add a center core which will also give more of a 'round' feel in your hand. To include to added core all you need to do is select based on the length of rein you are requesting. If you wish to have a 9' loop rein then you will select to add 9' of core.